The Best Albums Of 2019
Without a doubt, 2018 was a stellar year for new albums, including a sublime release from Swedish pop aficionado Robyn, a genre-bending instant classic from The Internet and a new kind of punk in IDLES' second album.
But your playlist might be in need of a refresh, and 2019 has already gifted us a new wave of great albums via Sharon Van Etten and Julia Jacklin, and the delicate soundscapes of James Blake and Tourist.
Whether you're looking for something to soundtrack your living room dancing or contemplative Tuesday morning commute, here's our favourite releases of the year so far.
Solange – When I Get Home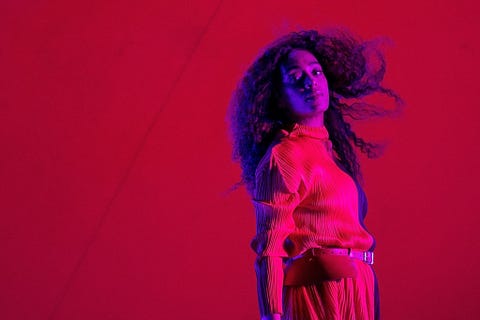 Since her heralded 2016 album A Seat at the Table, Solange has no longer needed the caveat explainer of being Beyoncé's younger sister. Building on the transgressive nature of her previous release, When I Get Home is a eclectic patchwork of sounds from sparse jazz in 'Dreams' to the 'interlude' and 'intermission' tracks which sample speech and street noises to make the album feel like a journey through a city.
Nilüfer Yanya – Miss Universe
The debut album from London-hailing 22-year-old Nilüfer Yanya feels wise beyond its years, yet has a joyful abandon about it that sounds intrinsically young. Miss Universe is a pop-rock album that has a warm sense of nostalgia, twinning euphoria and reflection in tracks like 'Paralysed' and 'Paradise', and peppering the album with eccentric samples of her operating an automated 'hotline for wellness'. It's a sublime debut, and one that cements her as a rising talent to watch.
Foals – Everything Not Saved Will Be Lost Part 1
Jenny Lewis – On The Line
Refining her smooth Americana sound and telling stirring stories with her lyrics, California indie rock singer Jenny Lewis' fourth album is her best yet. Lurking in the lighter tracks are moments of reckoning, like in 'Wasted Youth', where memories of family addiction, heartbreak and estrangement are masked by breathy vocals.
Ry x – Unfurl